Xinyi hotels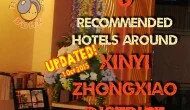 LATEST update 2 October 2015! 3 recommended hotels in Xinyi, Zhongxiao, Daan areas!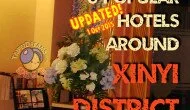 David Taiwan Good Hotels! Charming City hotel Taipei, Dandy hotel (Daan), good hotels Daan, good hotels Xinyi, good hotels Zhongxiao, Grand Hyatt hotel Taipei, Les Suites Daan hotel, San Want Xinyi hotel, Shangri-La's Far Eastern Plaza hotel, Sinyi hotels, Taipei 4 stars hotel, Taipei 5 stars hotel, Taipei hotel, Taipei hotel best rate, Taiwan 3 star hotel, Taiwan hotel best rate, Taiwan motel, Tango Xinyi hotel, United hotel Xinyi, where to stay in Taipei, Xinyi hotels 0
UPDATE: 1 October 2015. Do you know which are the favourite Taipei hotels the travellers loved? Check out these 8 hotels around Xinyi district they raved about!