Travel Taiwan Better!
Tour with these little fun EGuides from our sister Website – Taiwan Night Markets Alive.com..
Which recommended night markets do you tour
and what best-loved street eats to enjoy in each?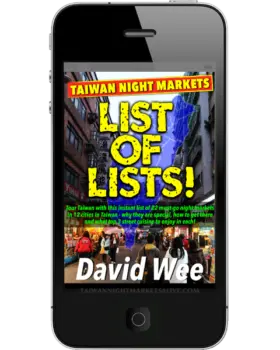 List EBook in EPUB:
NOTE: List EPUB has LESS colours/ graphics, due to its format limitations. Apple iTunes store is unavailable in some countries.
FAQs
Do I buy EPUB or PDF format?
Both are great! EPUB is good for ebook reader, mobile phone. PDF is colourful, visually-rich. Enjoyable in phone, laptop even desktop computer.
Do I get a discount?
We had priced our Ebooks from a sweet us$4.99. Already discounted to match pricing demand of you international online readers!
Can I buy your Ebooks in other languages?
For now, you can enjoy our Ebooks in English only. We have a Chinese version available in Chinese online markets.
How do I stay updated?
Taiwan travel is dynamic and ever evolving! Catch smart tips and fun tales about touring Taiwan in this Website!
Compliments
"This Ebook has very comfortable length of words,
making reading easy to understand and fun! Just the kind of instant pocket guide I can use to explore Taiwan!"
Rick K. W, Banking Services Advisor, Singapore